Welcome to West Virginia Photography by Kent Mason
A Photographic Study of the Wild WV Allegheny Mountains
If you would like a comprehensive photographic view/tour of the West Virginia Allegheny Mountains, the 44 galleries of this website will fulfill that need. For over 15 years I have been creating a photographic study of the extraordinary wild places in the West Virginia Highlands. My ultimate goal is to inspire the viewer to conserve and preserve wild places. This website contains a great deal of photography and may best be seen as a book that you go to multiple times before completing it.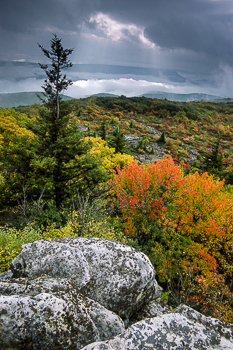 After The Storm, by Kent Mason

Note: When you go to a gallery, left click on the first image to have a single large image appear.
Copyright and Limited Rights Notice. All images and text on this Web site are the copyrighted intellectual property of Kent Mason. You are granted permission to print one hardcopy of each page. No image from this site may be otherwise copied, altered, or used in any way without the express written consent of the photographer. For prints or licensed use of any of the images, please contact Kent Mason.